Rose, green, gold and brown Jacobean floral in a 100% cotton damask. Bodice is fully lined with working lacing that crisscrosses down apin-tucked, mock stomacher. The lacing is of the same fabric as the dress and slips through hidden loops to provide some flexibility for adjustment. A zipper is discreetly hidden under the arm, set into the side seam. Only you and I will know it's there!  A deep hem at 38″ will give you an additional 4″ if you need to lengthen dress. Seams are finished with serving.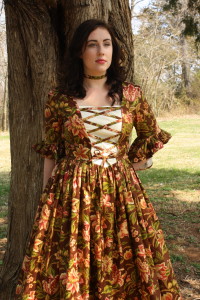 Wear this to DAR, CAR events or wherever you may participate in living history. Although this gown is not authentic for the hardcore reenact ors, I designed this gown with to have the appearance of a separate stomacher, robes and petticoats yet provide ease of a single garment for the modern wearer.
Nouveau Chic has been styling 18th. century clothing from Charlottesville, VA since 2003. Her fashions have been found in museum shops at Lexington, MA, Montpelier, Monticello, Michie Tavern and a shop at Williamsburg.
Inquiries for custom work are welcome.
100% Cotton: Handwash, line dry