Why is a fashion designer making flute bags?
It began several years ago when we were shopping at the Native American Trading Post  in Salt Lake City. We purchased our first High Spirits Flute  there, a beautiful cedar flute in the key of G. We spent a night in Washington State at La Wis Wis campground near the Blue Hole . We were in a wooded area alongside the river. It was misty as I wandered around moss laden yew trees. Howie was playing the cedar G and I sensed that the entire forest had come alive and I could no longer distinguish from which direction the music came. Thus the passion for the wood flute began.
The following year, I was wandering again, but this time at the  Prairie Edge Trading Post in Rapid City. I was looking at the artwork when I heard music rising up, a flute that sounded beautiful, like a songbird. I followed it down the staircase and there was Howie playing a High Spirits birch flute in E. We had to have it and added it to our collection.
The next year it was a High Spirits pocket flute and we feel that a bass flute would nicely balance our collection.
While gigging, Howie uses a looper pedal to lay down his guitar tracks. He then picks up his flute and plays. I am always amazed at how the flute resonates with it's surroundings and the way an audience responds. It is a beautiful instrument and folks always want more. The birds will sing and the cows will come running at the sound of the wood flute. I know because I have watched Howie play for them on a SD ranch and in Lano, TX.
Two Healthy Nomads: That describes our lifestyle, living out of a van for 10 years, sharing music along the way, eating natural foods, growing sprouts……You get the picture. Howie needs his flutes protected as he keeps them within arms reach in the van, right behind his seat.  He asked me if I could make some kind of a bag to protect them, so we collaborated on this project. He is the working musician and knows what he needs, and I am the designer with a multitude of creative ideas. I made up samples, moved some things around, then bingo, we fashioned some bags that work well for the task. He is satisfied and I believe you will be as well.
I am pleased to offer you my first installment of gig bags with style, to you, my musician friends!
Contact me and visit my Etsy to see my current selections.
Special orders are welcomed.
Gig Bag
Maximum protection with 1″ foam layer, decorative fabric exterior and hand strap.  This soft bag offers some pretty sweet protection without going with a full on hard case. Available in 25″ and 36″.
Travel Bag
Decorative fabric with a padded lining for basic protection from scratches and dust.
Available in 12″, 25″ and 36″.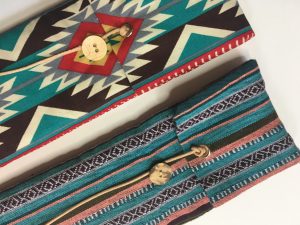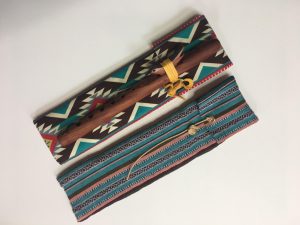 Utility Bag 
Simple, padded, no frills bag that stands alone or inside another bag for additional protection.
Available in 12″, 25″ and 36″